On the
Artsy website
.
Photo of the Year
Crying Girl on the Border, John Moore, Getty Images
For 62 years, World Press Photo's independent jury has recognized the photojournalists who best capture critical events around the globe.
The most famous award, Photo of the Year, is annually given to the photographer who most powerfully summed up a significant event in a single image.

But World Press Photo recognizes much more than that single, impactful moment.
The awards celebrate photography spanning contemporary issues, the environment, and sports, as well as long-term projects.
This year, the foundation introduced a counterpart to the Photo of the Year award, the Story of the Year, emphasizing the importance of narrative storytelling in visual journalism.

For the 2019 awards, nearly 5,000 photographers from 129 countries entered 78,801 images to the competition. From those, 43 photographers from 25 countries received awards.
Lars Boering, World Press Photo's managing director, noted in a press release that "the need for images and stories we can trust has never been greater."
The awards ceremony took place on April 11th, and the following photographers received the top prizes in their categories.
Story of the Year
The Migrant Caravan,
Pieter Ten Hoopen,
Agence VU/Civilian Act
"During October and November, thousands of Central American migrants joined a caravan heading to the United States border. […] Traveling in a caravan offered a degree of safety on a route where migrants have previously disappeared or been kidnapped, and was an alternative to paying high rates to people smugglers. Migrant caravans travel to the U.S. border at different times each year, but this was the largest in recent memory with as many as 7,000 travelers, including at least 2,300 children, according to UN agencies. Conditions along the way were grueling, with people walking around 30 km (18.6 miles) a day, often in temperatures above 30°C (86°F)."
Issues, Singles, 1st Prize
The Cubainitas,
© Diana Markosian, Magnum Photos
"Pura rides around her neighborhood in a pink 1950s convertible, as the community gathers to celebrate her 15th birthday, in Havana, Cuba."
Contemporary Issues, Stories, 1st Prize
Blessed Be the Fruit: Ireland's Struggle to Overturn Anti-Abortion Laws,
Olivia Harris
"On May 25th, Ireland voted by a large majority to overturn its abortion laws, which were among the most restrictive in the world. […] In 2012, the death of Savita Halappanavar from sepsis after doctors had denied her a termination, shocked Ireland and galvanized campaigners calling for an end to the ban. […] Campaigners used social media platforms to spread their message, and took the argument to the streets in the form of demonstrations and theatrical spectacle. Nearly two-thirds of the Irish population turned out to participate in the referendum, with 66.4 percent voting to overturn the abortion prohibition."
Environment, Singles, 1st Prize
"Petronella Chigumbura (30), a member of an all-female anti-poaching unit called Akashinga, participates in stealth and concealment training in the Phundundu Wildlife Park, Zimbabwe."
Environment, Stories, 1st Prize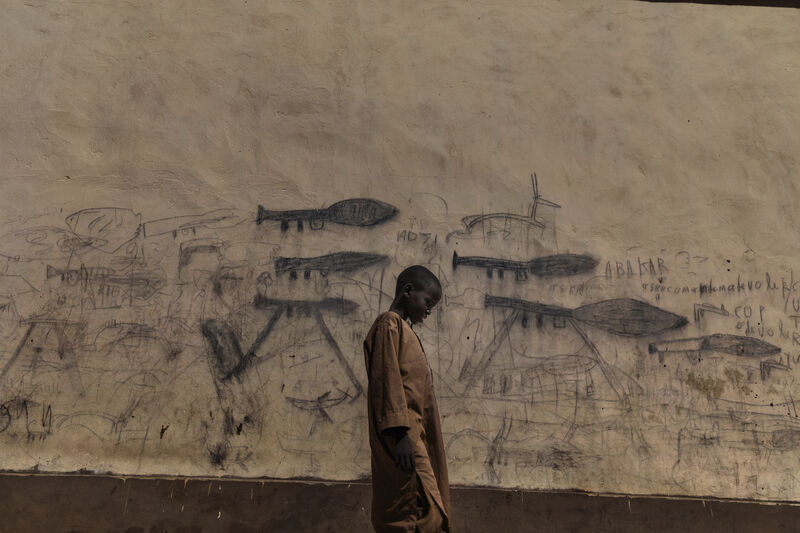 The Lake Chad Crisis,
Marco Gualazzini,
Contrasto
"Lake Chad—once one of Africa's largest lakes and a lifeline to 40 million people—is experiencing massive desertification, as a result of unplanned irrigation, extended drought, deforestation, and resource mismanagement. […] Traditional livelihoods such as fishing have withered, and water shortages are causing conflict between farmers and cattle herders. Jihadist group Boko Haram, which is active in the area, both benefits from the hardship and widespread hunger and contributes to it. The group uses local villages as a recruiting ground, and the protracted conflict has uprooted 2.5 million people, exacerbating food insecurity."
General News, Singles, 1st Prize
The Disappearance of Jamal Khashoggi, © Chris McGrath, Getty Images
"An unidentified man tries to hold back the press as Saudi investigators arrive at the Saudi Arabian Consulate in Istanbul, Turkey, amid a growing international backlash to the disappearance of journalist Jamal Khashoggi."
General News, Stories, 1st Prize
Yemen Crisis,
Lorenzo Tugnoli,
Contrasto, for the Washington Post
"After nearly four years of conflict in Yemen, at least 8.4 million people are at risk of starvation and 22 million people—75 percent of the population—are in need of humanitarian assistance, according to the UN. In 2014, Houthi Shia Muslim rebels seized northern areas of the country, forcing the president, Abdrabbuh Mansour Hadi, into exile. The conflict spread, and escalated when Saudi Arabia, in coalition with eight other mostly Sunni Arab states, began air strikes against the Houthis. By 2018, the war had led to what the UN termed the world's worst man-made humanitarian disaster. […] The Saudi-led coalition implemented a blockade on Yemen, imposing import restrictions on food, medicines and fuel."
Long-Term Projects, Stories, 1st Prize
"Patriotic education, often with a military subtext, forms the mainspring of many youth programs in both Russia and the United States. In America, the dual messages of 'America first' and 'Americanism' can be found not only as a driving force behind adult political movements, but around the country in camps and clubs where young people are taught what it means to be an American. In Russia, patriotic clubs and camps are encouraged by government. In 2015, President Vladimir Putin ordered the creation of a Russian students' movement whose aim was to help form the characters of young people through instruction in ideology, religion, and preparedness for war. […] The aim of the series is to use these young people and their lives as the focal point in an open dialogue around the ideas instilled in future generations."
Nature, Singles, 1st Prize
Harvesting Frogs' Legs,
© Bence Máté
"Frogs with their legs severed and surrounded by frogspawn struggle to the surface, after being thrown back into the water in Covasna, Eastern Carpathians, Romania, in April."
Nature, Stories, 1st Prize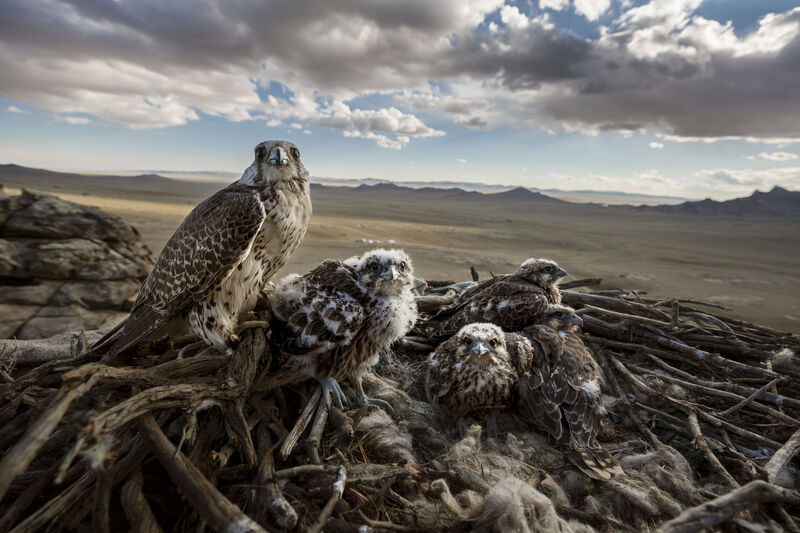 Falcons and the Arab Influence, Brent Stilton, Getty Images for National Geographic
"The millennia-old practice of falconry is experiencing an international resurgence, especially as a result of efforts in the Arab world. […] Falcons bred in captivity have helped diminish the trade in captured wild birds, including some species that are listed as endangered. But some falcons in the wild continue to be at risk from capture and other anthropogenic factors. […] Similarly, although the breeding of birds such as houbara bustards for prey has made hunting a more sustainable practice, the British Ornithologists' Union reported that the wild houbara population continued to decline."
Portraits, Singles, 1st Prize
Dakar Fashion,
© Finbarr O'Reilly
"Diarra Ndiaye, Ndeye Fatou Mbaye, and Mariza Sakho model outfits by designer Adama Paris, in the Medina neighborhood of the Senegalese capital, Dakar, as curious residents look on."

Portraits, Stories, 1st Prize
"Nigeria has one of the highest occurrences of twins in the world, particularly among the Yoruba people in the southwest. In the southwestern town of Igbo-Ora, dubbed 'The Nation's Home of Twins,' reportedly almost every family has at least one set. In 2018, the town hosted a Twins Festival, attended by over 2,000 pairs. The first-born twin is usually called Taiwo, meaning 'having the first taste of the world,' while the second-born is named Kehinde, 'arriving after the other.'"
Sports, Singles, 1st Prize
Boxing in Katanga,
© John T. Pedersen
"Boxer Moreen Ajambo (30) trains at the Rhino boxing club in Katanga, a large slum settlement in Kampala, Uganda, on 24 March."
Sports, Stories, 1st Prize
Crying for Freedom,
Forough Alaei
"In Iran, there are restrictions on female fans entering football stadiums. As football is the nation's most popular sport, the ban has been a controversial public issue. […] On June 20th, a ruling allowed Tehran's Azadi Stadium to admit selected groups of women for international matches […] and after a senior judicial officer objected in October, it was withdrawn. On November 10th, the FIFA president, who was attending the AFC Cup match in Tehran, asked to be shown that women were being allowed to attend. A selection of women was permitted to enter, though many others were barred."