© Eric Dessons / JDD / SIPA
It's with great sadness that we learn the passing of Jean Giraud, better known to SF fans as
Moebius
.
In Search of Moebius - Jean Giraud clip1/3
par foivosloxias
In Search of Moebius - Jean Giraud _clip2/3
par foivosloxias
In Search of Moebius - Jean Giraud_clip3/3
par foivosloxias
More Moebius
here
.
A wonderful profile by Kim Thompson in the
The Comics Journal
.
An article by Jean-Marie Bertin on "Moeb", the Editorial Cartoonist:
The comics world lost one of his greatest masters. Jean Giraud died on March 10
th
2012 at 73. He signed Gir his Western series and Mœbius his SF stories and illustrations.
When Maurice de Bevere, his fellow cartoonist Morris, died, Jean Giraud paid him a tribute that he exceptionally both signed Gir and Mœbius, for once. This homage was published in the French weekly magazine 'La Vie' on July 26th 2001. Although being quite famous for his comic strips works, Mœbius was editorial cartoonist in this magazine in 2001-2002.
Un an dans La Vie
, a book gathering about fifty of these works, was published by Stardom Edition in Paris in May 2002. ISBN 2 908766 60 4
Back to square one. It is always a dangerous task for a revered master to enter a new territory for the first time. One year at the very heart of information. This is the kind of adventure that we're talking about here; the very same one that your hands are holding. Small size book, regular meeting format in a paper covered by lines of pencil, at 'La Vie' (Life), a Christian newspaper. I declare that Mœbius started this career in which his peers preceded him, with both the humility and eagerness of a child. He thus became part of this paper's new founding team, which started right after the war.
A weekly drawing that depicts the news is a task without a net. No time for regrets. As soon as it's done, it's already printed. As soon as the ink is dry, you have to start over; back on the blank sheet. In this kind of business there is no room for impulsiveness and hesitation. On this definition valid for all news drawing, an additional difficulty rises, inherent to the weekly. The window of execution is limited to the limits of the day. It is the same as that of the daily plus the dilemma: what fact to retain that will remain as the core of the week, which will not betray that time?
Living the intensity of the news, then getting a distance to bring light to its meaning. For a year, Mœbius and I have shared this kind of life, rain or shine. We always responded to the call, either on an airplane, at the hospital, in Paris, in the south of France, or in dream castles in Burgundy, all four seasons; usually on Sunday, day of rest, day of the Lord. As for me, I felt the rare pleasure to witness a new particular talent that rose in him. The skill of catching the news, six days a week, and give it a meaning on the seventh; then, to offer it to the avid readers to share. May he be blessed for it.
Max Armanet. Managing Editor 'La Vie'.
February 20
th
2002: Jacques Chirac & Lionel Jospin
Jean Giraud obituary
French comic book artist internationally known by his pen names Moebius and Gir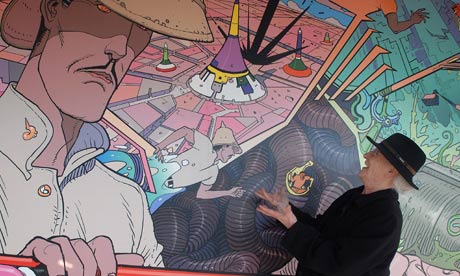 The artist Jean Giraud was principally known for his work on comic books under two pen names. As Gir, the co-creator of Blueberry, one of France's most popular strips, his brushwork was detailed and realistic; as Moebius, he used intricate, visually arresting penwork to explore the subconscious in his creations Arzach, Le Garage Hermétique (The Airtight Garage) and L'Incal (The Incal). But Giraud, who has died of cancer aged 73, had an impact on the visual arts that went beyond comics. He was seen as a figurehead linking bandes dessinées with modernism and nouveau réalisme. As the co-creator of Métal Hurlant magazine, he took comics to an older, more literate audience. In cinema, his fans ranged from Federico Fellini to Hayao Miyazaki and his style influenced dozens of others, including Ridley Scott, George Lucas, James Cameron and Luc Besson.
Giraud was born in a suburb of Paris. His parents divorced when he was three and he grew up in Fontenay-sous-Bois with his grandparents. He began drawing illustrations and comic strips in his early teens and sold his first story to the publisher Jacques Dumas (better known as Marijac) at the age of 15. At 18, after two years' study at the École des Arts Appliqués in Paris, he began producing artwork for advertising and fashion, as well as his first substantial comic strip, Les Aventures de Frank et Jérémie, for Far West magazine.
When his mother moved to Mexico to remarry, Giraud joined her for nine months and found himself inspired by the desert landscapes. He returned to France to undertake military service, drawing for a military newspaper while stationed in Germany and Algeria. On his release, he visited the Belgian artist Joseph Gillain, who hired him as an assistant on the western strip Jerry Spring. In 1961-62, Giraud also worked on the non-fiction L'Histoire des Civilisations and produced illustrations for the satirical magazine Hara-Kiri, where he first began using Moebius as a signature.
Giraud met Jean-Michel Charlier, editor-in-chief of the newly founded Pilote magazine, and was invited to draw Charlier's new western strip featuring Lieutenant Blueberry. Blueberry was the nickname of Mike Donovan, a lieutenant in the US cavalry based at Fort Navajo, where he faced constant battles against gunrunners and Native American tribes. Drawing and sometimes colouring Blueberry filled most of Giraud's time for the next decade, by the end of which he was keen to explore new territories. He contributed a number of short stories to Pilote, notably La Déviation and L'Homme Est-il Bon?, exploring different styles of storytelling and letting his imagination roam free.
After one further volume of Blueberry, Giraud teamed up with others to found Le Humanoïdes Associés and publish Métal Hurlant (Screaming Metal). Heavy Metal, as it became in translation, quickly attracted the likes of comic creators Richard Corben, Jacques Tardi, Vaughn Bode, Serge Clerc and Enki Bilal. It was in the pages of Métal Hurlant that Moebius experimented with non-narrative (Arzach) and non-linear (The Airtight Garage) stories, developing many of the iconic images that were to make Moebius such an influence – the figure of Arzach flying over a barren alien landscape on a pterodactyl, or the pith-helmeted Major Grubert, a central figure in The Airtight Garage.
Giraud's experimental stories also appealed to the film-maker Alejandro Jodorowsky, who, in 1975, was attempting to adapt Frank Herbert's political, ecological and religious epic of science fiction, Dune. Although that particular adaptation eventually came to nothing, in the process Giraud met the visual effects supervisor Dan O'Bannon, who went on to write the screenplay for Alien. Its director, Ridley Scott, used many of the creative team from Jodorowsky's abortive Dune project – including Giraud, Chris Foss and HR Giger – to design what has become a science fiction/horror classic.
Giraud was now able to split his time between his various personae: Gir was able to take up the reins of Blueberry once again, writing as well as drawing the strip following Charlier's death in 1989. He also penned four volumes featuring another western hero, Jim Cutlass, with artwork by Christian Rossi. Moebius, meanwhile, embarked on the multi-volume story of The Incal, which debuted in Métal Hurlant in 1980. Written by Jodorowsky, the story is set in a dystopian galactic empire where rulers, rebels and aliens are all seeking an energy crystal which has fallen into the hands of a shambolic private eye, John Difool. This simple premise underpins an endlessly inventive masterpiece, a relentlessly paced galaxy-spanning adventure that, at the same time, charts Difool's philosophical and spiritual evolution.
Meanwhile, Giraud was in demand from the film industry as a concept designer, storyboard artist and even director. The films he worked on include the animated Les Maîtres du Temps (Time Masters) and Little Nemo: Adventures in Slumberland, the live-action science fiction and fantasy movies Tron, Masters of the Universe, Willow, The Abyss and The Fifth Element, and the live-action/cartoon hybrid Space Jam. For French television, he directed the animated Arzak Rhapsody and La Planète Encore. His story Cauchemar Blanc was filmed in 1991; a Blueberry movie was released in 2004.
In the 1980s, Giraud spent much of his time in the US (and, briefly, in Tahiti and Japan), where many of his best works began appearing in translation. His connections with Marvel led him to illustrate the two-part Silver Surfer: Parable, written by Stan Lee.
In the 1990s, he again collaborated with Jodorowsky on Le Coeur Couronné (The Crowned Heart) trilogy and Griffes d'Ange (Angel Claws). A sequel to The Airtight Garage, L'Homme du Ciguri, appeared in 1995, and Giraud, despite being kept busy with his scripts and artwork for Blueberry and Jim Cutlass, still managed to produce further Moebius works, including an Incal sequel, Le Nouveau Rêve (2000), and Ikaru (Icarus, 2001) drawn by Jiro Taniguchi.
Giraud is survived by his wife, Isabelle, and two children, Helene and Julien, from an earlier marriage.